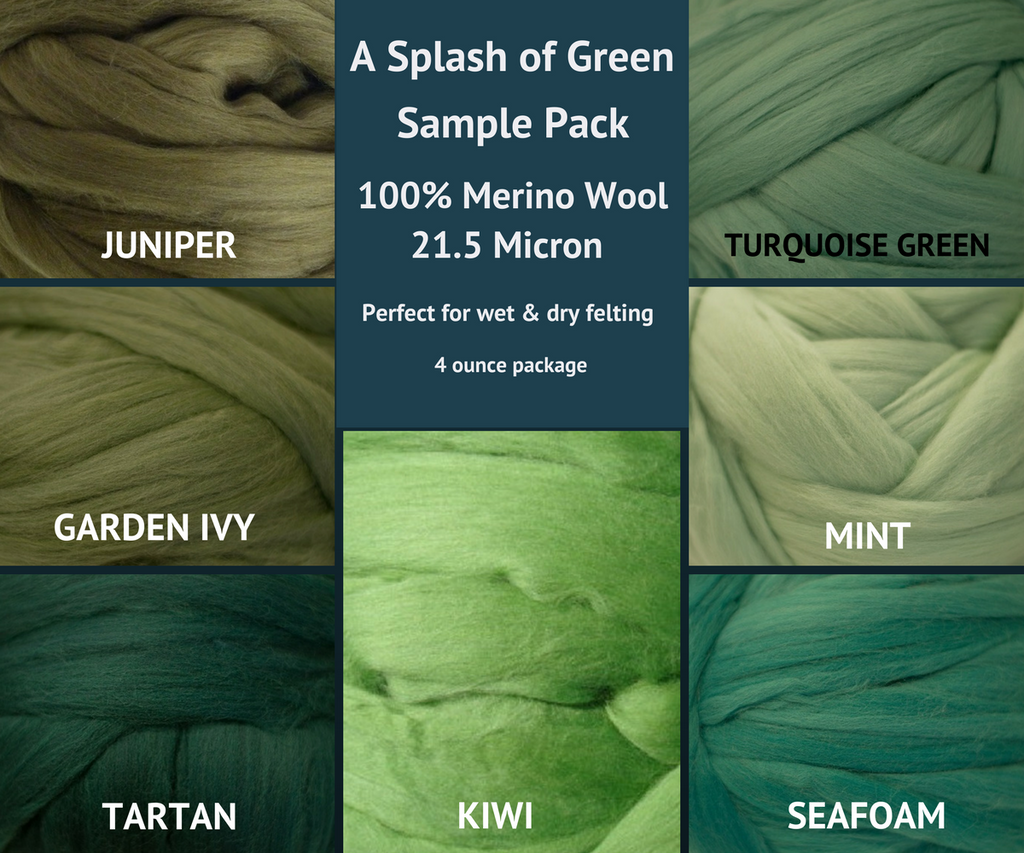 Merino Wool Roving Sample Packs
Merino Wool Roving Sample Packs from Foxglove Fiberarts - Felting Fiber - Spinning Fiber - 4 ounce package
A Splash of Green -  Garden Ivy, Juniper, Kiwi, Mint, Seafoam, Tartan, Turquoise Green
Jewel Tones - Dijon, Eggplant, Midnight, Nutmeg, Ruby, Spice, Tartan
Moody Blues -  Aqua, Blue, Hyacinth, Ice Blue, Navy, Teal, Wedgewood  
Pretty in Pink - Cabbage Rose, Cherry, Dusty Rose,  Flamingo, Fuschia, Mulberry, Pink
Purple Haze - Berry, Cabbage Rose, Garden Ivy, Lilac, Periwinkle, Violet, Wine
Rainbow Bright - Tomato, Tangerine, Lemon, Jade, Blue, Midnight, Violet
Rainy Day Hues -  Glacier, Graphite, Grey, Horizon, Mink, Plum, Silver 
Spring Brites - Citron, Kiwi, Lemon, Magenta, Peacock, Purple, Tomato 
Sweet Pastels - Dusty Rose, Ice Blue, Mint, Periwinkle, Undyed, Vanilla, Yellow
Winter Holidays - Black, Gold, Maroon, Parchment, Pine, Red, Undyed 
Woodlands - Bitter Chocolate, Bottle, Brown, Cinnabar, Forest, Oak, Olive 

The solid-colored merino wool roving is 21.5 micron combed top with a staple length of 70mm or 2.75".

These sample packs are perfect for all your felting projects - needle, wet or nuno.

Colors may vary slightly depending on your monitor.

Questions???? Don't hesitate to contact me!